Chase cards & New Familiars
An update on what I was saying about the Paizo chase cards: they're getting the art done and have finalised the layout.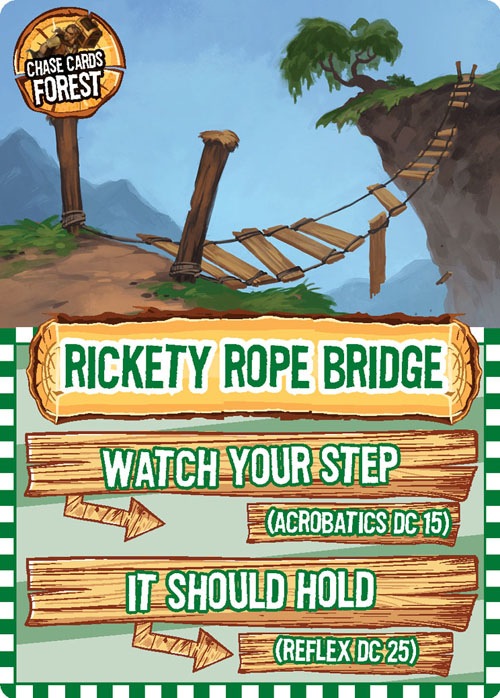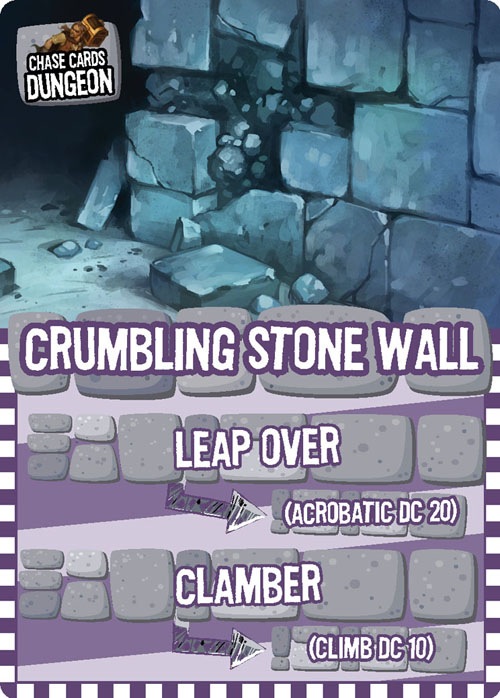 I like the idea that even if you don't have the requisite skill, you can fall back on basic saves. The deck will include City, Dungeon and Dungeon cards.
Making a mini-game out of what can be a complicated part of the game seems like a good idea for maintaining flow.  I wish they would make a mini-game for Grappling.
EDIT: The Paizo site also has stat blocks for two new familiars and I have miniatures for both of them! Actually, since they are save boosters I can see both of these being pretty good choices.
Fox    CR 1/4
XP 100
N Tiny animal
Init +2; Senses low-light vision, scent; Perception +8
Defense
AC 14, touch 14, flat-footed 12 (+2 Dex, +2 size)
hp 5 (1d8+1)
Fort +3, Ref +4, Will +1
Offense
Speed 40 ft.
Melee bite +1 (1d3-1)
Space 2-1/2 ft.; Reach 0 ft.
Statistics
Str 9, Dex 15, Con 13, Int 2, Wis 12, Cha 6
Base Atk +0; CMB +0; CMD 9 (13 vs. trip)
Feats Skill Focus (Perception)
Skills Acrobatics +2 (+10 jumping), Perception +8, Stealth +10, Survival +1 (+5 scent tracking); Racial Modifiers +4 Acrobatics when jumping, +4 Survival when tracking by scent
Ecology
Environment any
Organization solitary, pair, or skulk (3–12)
Treasure none
Foxes are small, doglike carnivores with narrow snouts and bushy tails. A fox's master gains a +2 bonus on Reflex saves.

Hedgehog    CR 1/8
XP 50
N Diminutive animal
Init +3; Senses low-light vision; Perception +1
Defense
AC 18, touch 17, flat-footed 15 (+3 Dex, +1 natural, +4 size)
hp 2 (1d8–2)
Fort +0, Ref +5, Will +1
Offense
Speed 20 ft.
Space 1 ft.; Reach 0 ft.
Statistics
Str 1, Dex 16, Con 6, Int 2, Wis 12, Cha 7
Base Atk +0; CMB –1; CMD 4 (8 vs. trip)
Feats Athletic
Skills Climb +5, Stealth +19, Swim +5
Ecology
Environment tropical or temperate forests
Organization solitary or pair
Treasure none
Special Abilities
Spiny Defense (Ex) As a move action, a hedgehog can roll itself up into a spiny ball. While rolled up, it gains a +1 enhancement bonus to its existing natural armor, and any creature attempting to grapple the hedgehog takes 1d3 damage on making a grapple check. While rolled up, a hedgehog cannot take any action other than leaving this state. The hedgehog can leave this state as a move action.

Hedgehogs are spiny, insectivorous mammals. When threatened, a hedgehog rolls up into a spiny ball as a defense mechanism. A hedgehog's master gains a +2 bonus on Will saves
While I'm gratified that they included the fantastic collective noun for foxes, I have to wonder about a hedgehog causing d3 damage if grappled. It isn't an attack, so it can't critical (just as well), but that would mean a 1st level mage could only try to grapple a hedgehog twice before seriously flirting with unconsciousness…
I'm not sure Paizo knows what a hedgehog is…